The following piece comes courtesy of Ron Ross, author of Bummy Davis vs. Murder, Inc.: The Rise and Fall of the Jewish Mafia and an Ill-Fated Prizefighter
* * *
Brooklyn will showcase the biggest fight night in its history this Saturday (Oct. 20) at the sparkling new crown jewel of entertainment, the Barclays Center.  Oscar de la Hoya's Golden Boy Promotions is putting on more than a boxing show. It's an Event, an Extravaganza —  four championship fights topping a stellar eight-bout card that will have the bridge traffic to Brooklyn flowing in a steady stream.
Objectivity and impartiality are supposed to be essential qualities in the journalist's makeup. Well, Play It Again, Sam. It Ain't Necessarily So. Right now I find myself marching to a different tune.
Dmitriy (The Star of David) Salita will be fighting on the card. No title, no big purse. Dmitriy, who has lost only one fight in a thirty-six bout career, is like the guy who travels the full journey, negotiating all the rough spots but when he gets to cross that final bridge he's like the guy who discovers that his EZ Pass isn't working. So what do you do in such a situation -– you pay the price!
Perhaps Salita set the bar too high nearly a dozen years ago when, as a 139-pounder, he won the New York Golden Gloves championship and was awarded the Sugar Ray Robinson trophy as the tournament's outstanding performer.  Although his record as a professional for the past eleven years continues on that path of excellence, the recognition and rewards have not been commensurate. If expectations exceeded performance, then Dmitriy is competing on a playing field that is not quite level.
On Saturday night he'll be squaring off against Brandon Hoskins, a hungry young fighter from Missouri with a 16-2-1 record in an eight-round undercard bout. If Dmitriy so chooses, he'll have the opportunity later that evening to watch his neighborhood rival and friend, Paulie Malignaggi, defend his WBA welterweight title against Pablo Cesar Cano.  He'll being rooting for Paulie because, besides friendship, Dmitiry is hoping that he will be Paulie's next opponent -– if both are victorious on Saturday -– in what should be a mega-fight for both in the very near future.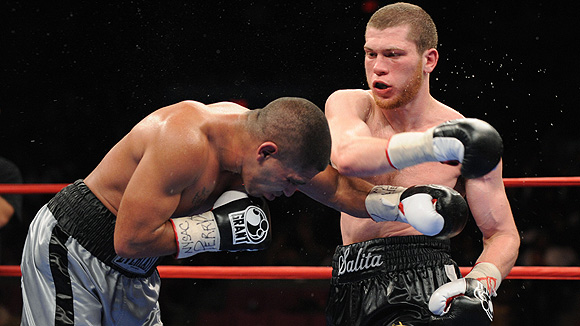 Salita, who has given back so much to his community, opening a youth center to help young Russian immigrants assimilate to their new home, promoting boxing programs that develop and showcase young local talent and devoting his time and energy to any worthwhile cause that would assist his community, has earned the stature of a World Champion in the eyes of his fans and neighbors. Because of these deeds he has been invited to the White House during both the terms of George W. Bush and Barack Obama. (Dmitriy assured me that the menus were strictly kosher.)
Last Sunday the boardwalk at Brighton Beach was jammed with throngs of Dmitriy Salita's fans and friends who came to meet and greet the young man and wish him well on his continuing quest for a world title. Having won the last four fights since the lone blemish on his record – the loss to Amir Khan in Newcastle, England -– they are clamoring for what they so strongly feel is his earned right. Dmitriy smiles in appreciation of their support.  He is ready, willing and able -– and he already has paid the price!
Tags:
Dmitriy Salita