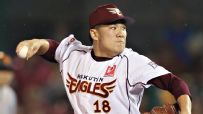 The New York Yankees have signed Masahiro Tanaka, the hot new import,  to a seven year deal for $155 million.
Tanaka had an incredible season for the Rakuten Golden Eagles in 2013, undefeated in 24 decisions with a 1.72 earned run average and helping them to their first championship. The 25-year-old righty has a lifetime record of 99-35 — all with Rakuten — with 1,238 strikeouts in 1,315 innings.
This isn't the first time a team has shelled out beaucoup bucks for a hot shot Japanese; see Hideki Irabu (Yankees, again) and and Daisuke Matsuzaka (Boston Red Sox), aka Dice-K, whose had one great year since coming to the Majors in 2007 and been poor ever since. He spent the latter part of 2013 with the New York Mets, appearing in seven games with a 3-3 record. Most infuriating to watch because he's so S-L-O-O-O-O-W on the mound.
The Yankees also had to pay $20 million to obtain the rights to sign Tanaka. Is it any wonder so many outside the region resent the Yankees?
Coincidentally, the Gold Eagles signed Kevin Youkilis — who was a teammate to Matsuzaka while on the Red Sox — to a one-year deal for 2014.
UPDATE: Does anyone believe the Yankees are engaging in fiscal responsibility (or crying poverty), as they've claimed? The New York Times doesn't.
Tags:
Kevin Youkilis
,
Masahiro Tanaka