Took one of my rare trips into the jungles of Manhattan to see Howard Megdal, he of the new book The Cardinals Way: How One Team Embraced Tradition and Moneyball at the Same Time at the Bergino Baseball Clubhouse.
It's always great to reconnect with old friends. Jay Goldberg, Bergino's congenial owner/event host is always kind to his guests, taking the time to note authors that have had events in his establishment who might be in attendance. Last night's group included Lee Lowenfish, winner of Spitball's Casey Award for his 2007 biography Branch Rickey: Baseball's Ferocious Gentleman; Greg Prince, whose  new book —  Amazin' Again: How the 2015 New York Mets Brought the Magic Back to Queens — comes out March 15; and myself.
In addition to Cardinals,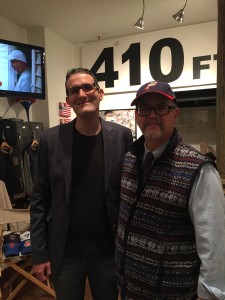 Megdal — the busiest man in journalism (he writes for more print and on-line publications than I can track) — is also author of all The Baseball Talmud: The Definitive Position-by-Position Ranking of Baseball's Chosen Players; Taking the Field: A Fan's Quest to Run the Team He Loves; and the e-book Wilpon's Folly: The Story of a Man, His Fortune, and the New York Mets.
On a more personal note, Megdal was responsible for my gig as a talking head on the PBS screening of Jews and Baseball: An American Love Story a few years back and Skyhorse asking me to do my book on the Maccabiah Games.
If my wife and I had another kid, I might have had to make Megdal the godfather.
Tags:
Bergino Baseball Clubhouse
,
Howard Megdal
,
Lee Lowenfish