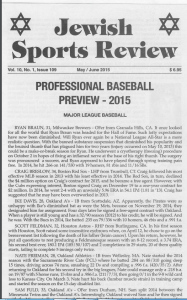 The Jewish sports fan's best friend arrived recently: The November/December issue of the Jewish Sports Review.
Among the topic covered:
A thorough look back at the 2016 baseball season, from the majors all the way down to the independent leagues
A look ahead at men's and women's college basketball for DI, II, and III schools. This is important because for some reason the major sports outlets like ESPN do a crap job of keeping up with the women's game.
An addenda for college football and soccer
A glimpse at the 2016-17 college wrestling scene
And a grab-bag of info in the "Sports Shorts"
Special feature: Benjamin Chernuhin's essay on "Twenty Best Jewish Soccer Players of the Soviet Period"
Neil Keller's "Jews in Sports" alphabetical quiz
The holiday season is upon and I can't think of a better gift for the hard core sports enthusiasts on your list. So why not get them a subscription of six bi-monthly issues for $36. You won't find this information anywhere else. For more, visit Jewishsportsreview.com.