Some TV shows hold up well over time, others don't.
I recently read David Bianculli's The Platinum Age of Television: From I Love Lucy to The Walking Dead, How TV Became Terrific
and am currently going through TV (The Book): Two Experts Pick the Greatest American Shows of All Time
, by Alan Sepinwall and Matt Seitz. Both feature the seminal cop show Hill Street Blues. I happened to catch an episode the other day and marveled at how it doesn't hold up. Mind you, this came out in the 1980s and at the time was a giant leap forward. But in retrospect, with the advent of cable TV, it is woefully lacking in good writing, good acting, and believability, IMO.
What the heck are you talking about, you might ask? What does this have to do with Jewish sports?
Well, another show of the era was The White Shadow (1978-81), about a former pro basketball player who whose career was cut short by injury. With little to fall back on, he turns to teaching in an inner-city school in Los Angeles (if I recall correctly). The team is the usual conglomeration of urban youth: Most of the team is black, with an Italian, a Mexican, and a Jew tossed in for good measure.
The Jewish kid is Abner Goldstein (why not just name him Jewy McJew?). He is basically a bench-warmer and is considered the outsider. He's socially awkward, a good student, and very sensitive; I've even seen one source which referred to him as having Aspbergers. Even the coach seems to have no patience for the poor schlub.
Goldstein, as played by Ken Michelman, was given two episodes as the central character. One of these was "Little Orphan Abner." You see Abner lives with his very Jewish grandparents for some reason that's never explained. I'm not sure if they were supposed to be survivors, but the were obviously European in origin. They are decidedly old-world and old-school and very unhip but Abner, being the nice Jewish boy, doesn't mind it at all and seems perplexed when the guys make jokes about the situation.
Abner is a "good boy" — he has Shabbos dinner every Friday night and all that stuff — but he wants to be one of the cool kids. Naturally, it doesn't work out. From the IMDB blurb for the episode: "Goldstein's shyness makes him the forgotten man on the team. When his grandfather takes ill, the players show him partial compassion. But only til his grandfather comes home. Goldstein must grow out of his shell and command respect." The "partial compassion"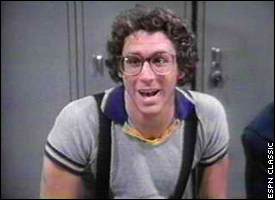 Of course, everything is nearly resolved within the 48-minute confines of the show. Here, watch it for yourself.
My main problem is, why can't a Jew be cool? Why does he have to wear glasses, live a quiet life, be the brunt of jokes because he loves his family? Why can't a Jew be the star of the team and get the girl? To be fair, Goldstein did end up joining the Marines in the Season Two finale, turning down a scholarship. But even so, did they have to make him such a nebbish?
The same thing could be said for another portrayal of a Jewish athlete: Rudi Stein. You may or may not recall him from the original Bad News Bears. Like Goldstein, he was an outcast on a whole team of outcasts. This kid was basically the guy who kept the score book. Because he was such a poor batter, his coach ordered him to get hit by a pitch in order to get on base. Needless to say, Stein didn't appreciate his role.
On the other hand, there were a couple of Jewish athletes who were actually good. There was an episode of the old Bill Cosby show, where he played a phys ed teacher in — wait for it — an inner city school in Los Angeles. In one episode he was the coach of another lousy youth baseball team. A new kid who just moved to town joins and is immediately the star. The problem is that he's Jewish and can't play in the games because they take place on Saturdays. Here, the life lesson is, there are more important things than sports. (I wrote about that episode a few years ago.)
Tags:
Abner Goldstein
,
The White Shadow