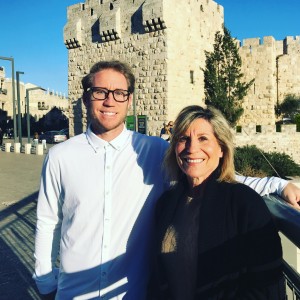 Time for a little SSP: My interview with Ty Kelly, who made his debut with the NY Mets last year and is scheduled to participate for Team Israel in the upcoming World Baseball Classic, appears on the Jewish Baseball News website.Israel makes its debut on the international stage after winning in the qualifiers last September. Kelly was not on the team at the time because he was in the Majors.
One of the more interesting aspects of our conversation was his take on religious identity. No spoiler alerts; you'll just have to read the article.
Unfortunately, Kelley was designated for assignment by the Mets just a couple of hours after we spoke. They have since outrighted him to their AAA affiliates in Las Vegas where he had so much success in 2016.
Kelly, shown here with his mom, Diane, was one of a group of Jewish-American players who visited Israel in January.
Tags:
Ty Kelly
,
World Baseball Classic