Had a grand old time in my return visit to the Bergino Baseball Clubhouse, Jay Goldberg, proprietor, to discuss the new book, Hank Greenberg in 1938: Hatred and Home Runs in the Shadow of War
.
Goldberg is a real mensch and a friend to the author. He holds these "salons" frequently and the audience that shows up is always welcoming, knowledgeable, and inquisitive (if sometimes challenging in the question-and-answer portion of the program).
Happy to say it was standing room only with new friends and old ones such as Perry Barber, a professional umpire and former Jeopardy champion, and Lee Lowenfish, educator and author of several baseball books including the award-winning Branch Rickey: Baseball's Ferocious Gentleman
.

This slideshow requires JavaScript.
Not only did we sell out of books, but I came away with some lovely parting gifts. I feel like I want to write another baseball book just so I can go back to Bergino.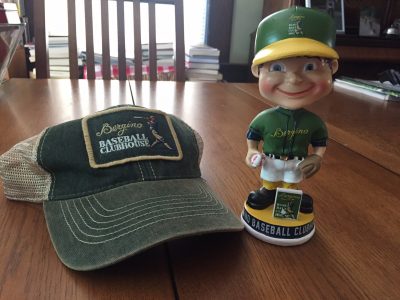 You can get an idea of the festivities from this video, which for the sake of brevity (and bandwidth) edits out a lot of the great Q&A:
Save
Tags:
Bergino Baseball Clubhouse
,
Hank Greenberg