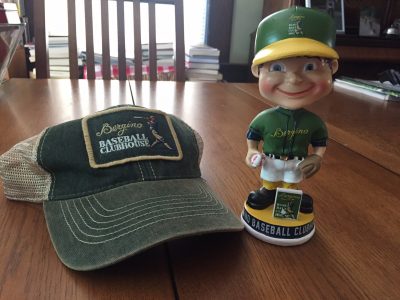 For me, it's like being a two-time MVP. I had the chance to speak again at the Bergino Baseball Clubhouse in Manhattan on May 3 to talk about Hank Greenberg in 1938: Hatred and Home Runs in the Shadow of War
. Jay Goldberg is a true friend of baseball writers, giving them a chance to discuss their work with an audience that is always welcoming and whip smart when it comes to the game.
It's also nice to reconnect with old friends and Bergino regulars like author and educator Lee Lowenfish and Perry Barber, a professional umpire and former Jeopardy winner. Perry presented me with t-shirts she had made bearing the book's cover, a very sweet gesture. And Jay gave me a goodie bag that rivaled those handed out at the Academy Awards as far as I'm concerned. Oscars are a dime a dozen, but I'm willing to bet cash money that none of those people has an official Bergino bobblehead, so there.
Tags:
Bergino Baseball Clubhouse
,
Hank Greenberg
,
Jay Goldberg