In last night's action…
NBA
Omri Casspi played 24 minutes of the bench, scoring six points with three rebounds, three assists, and two steals, but the Golden State Warriors (33-9) dropped this one to the visiting LA Clippers, 125-106.
NHL
Just two games last night, both involving MOTs. No such similar circumstances tonight.
Jason Zucker had an assist on the Minnesota Wild's first goal in their 2-1 win over the host Chicago Blackhawks. It was the 16th on the year for Zucker, who took three shots on goal in 13:33. The Wild improve to 23-17-4. Nice to see he's making a difference off the ice as well: Zucker of the Wild and his wife Carly are partnering with University of Minnesota Masonic Children's Hospital to build a family suite and broadcast studio. That's Zucker on the left with Michael  E. Jordan and Alex Fenner of the sports apparel firm UNRL.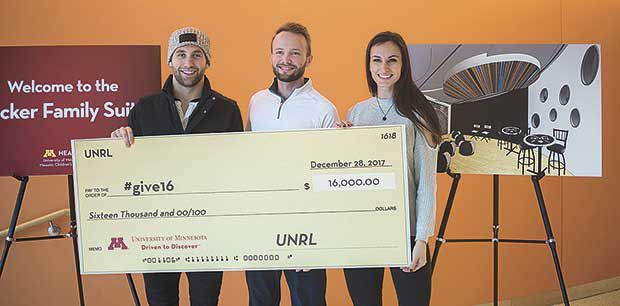 Zach Hyman took one shot in 19:11 as the Toronto Maple Leafs (25-17-3) lost to the visiting Ottawa Senators, 3-2.
Breaking (?) Jice news: There's evidently still some dispute over the Jewish identity of Andre Burakovsky of the Washington Capitols. You may recall there was a bit of discrepancy a couple of years ago as to whether he denied being Jewish. But he's still listed as such in the latest edition of the Jewish Sports Review and that's good enough for me. To recap his season, Burakovsky has three goals and five assists in just 21 games due to a combination of injury and healthy scratches. The Caps are first in the Metropolitan Division/ second in the Eastern Conference with a record of 27-13-3.
A "new" Jice-man, according to JSR, is Jakob Chychrun, a 19-year-old, 6-2, 200 pound defenseman for the Arizona Coyotes. He has appeared in 16 games this season with one goal and five assists. According to Bob Wechsler, author of Day by Day in Jewish Sports History and The Jewish Baseball Card Book, "His mother must be Jewish, because his father [Jeff] played in the NHL." Chychrun the younger actually made his NHL debut last year.
NFL
Fair or not, one ESPN contributor picked Adam Bisnowaty as the most disappointing rookie for the NY Giants: "This is probably nitpicking a bit. Bisnowaty was a sixth-round pick out of Pittsburgh. He wasn't supposed to make an immediate impact. He was, however, supposed to make the roster. Instead, he sat on the practice squad for the first 16 weeks of the season and looked overmatched in pass protection during his one appearance in the finale against the Redskins."
MLB
Legendary sports writer Irwin Cohen contributed this piece on Jews and baseball to the Brooklyn-based Jewish Press.
MISC.
Sports sandals, anyone? These come from the Israeli firm, Naot.
Tags:
Adam Bisnowaty
,
Andre Burakovsky
,
Jasozn Zucker
,
kob Chychrun
,
Omri Casspi
,
Zach Hyman