Featuring games from Jan. 15…
NBA
Omri Casspi missed his third straight game after his recent back issues due to as the Golden State Warriors (36-9) beat the host Cleveland Cavaliers, 118-108. Although he had been cleared to play, he was kept out of action as a "healthy scratch." His next opportunity will be tomorrow night when the Warriors visit the Chicago Bulls.
NHL
David Warsofsky is back! Who knew? He's on the Colorado Avalanche now but he missed last night's 3-1 win over the visiting Anaheim Ducks as a scratch. He was recently recalled from the San Antonio Rampage in the AHL. Warsofsky made his debut in 2013 with the Boston Bruins. he has also played for the NJ Devils and Pittsburgh Penguins. The 5'9″, 170-pound defenseman has two goals and four assists in 39 career games.
The professional life-span of an athlete is usually pretty brief; hockey players last five-and-a-half years, slightly less than a Major Leaguer which tops the sports world with 5.6 seasons. So it's never too early to think about your next career, as Andre Burakovsky is doing. #Flipper.
Although the Arizona Coyotes didn't play last night, you can still read about Jakob Chychrun.
Tonight's schedule shows Chychrun, Jason Demers, and the rest of the Coyotes hosting the San Jose Sharks; Zach Hyman and the Toronto Maple Leafs hosting the St. Louis Blues; and Brandon Leipsic and the Vegas Golden Knights visiting the Nashville Predators
Tennis
Israel's Dudi Sela was knocked out of the Australian Open in the first round. Camila Giorgi (Italy) bested Anna Kalinskaya of Russia, 6-4, 6-3. Denis Shapovalov (Canada) beat Stefanos Tsitsipas (Greece), 6-1, 6-3, 7-6,
NFL
Josh Rosen is becoming the subject of a lot of chatter for the upcoming draft. Could he be a good fit for the Denver Broncos?
An Algemeiner Journal headline: "New York Times Places Patriots' Jewish Owner in Christian 'Holy Trinity'." Hmm.
MLB
His post-season may have bought him some time, but how much more patience will the LA Dodgers show for Joc Pederson?
How will the acquisition of Curtis Granderson (one of the class guys in the game and a favorite of mine) impact Kevin Pillar?
ThatBallsOutaHere — a Phillies-centric blog — tells fans why they should be excited about their new manager, Gabe Kapler.
MISC.
Goldberg, the wrestler, will be inducted into the WWE Hall of Fame.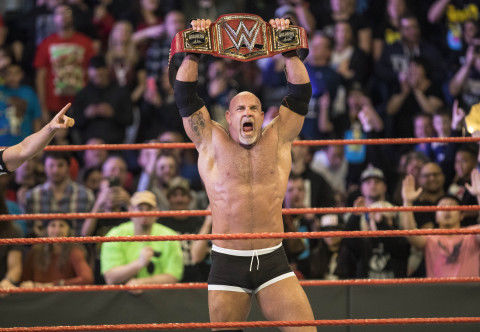 Tags:
Andre Burakovsky
,
Camila Girogi
,
David Warsofsky
,
Denis Shapaovalov
,
Dudi Sela
,
Gabe Kapler
,
Goldberg
,
Jakob Chychrun
,
Joc Pederson
,
Jose Rosen
,
m Kevin Pillar
,
Omri Casspi