Hasn't been much to glow about when it comes to Jews in the NFL.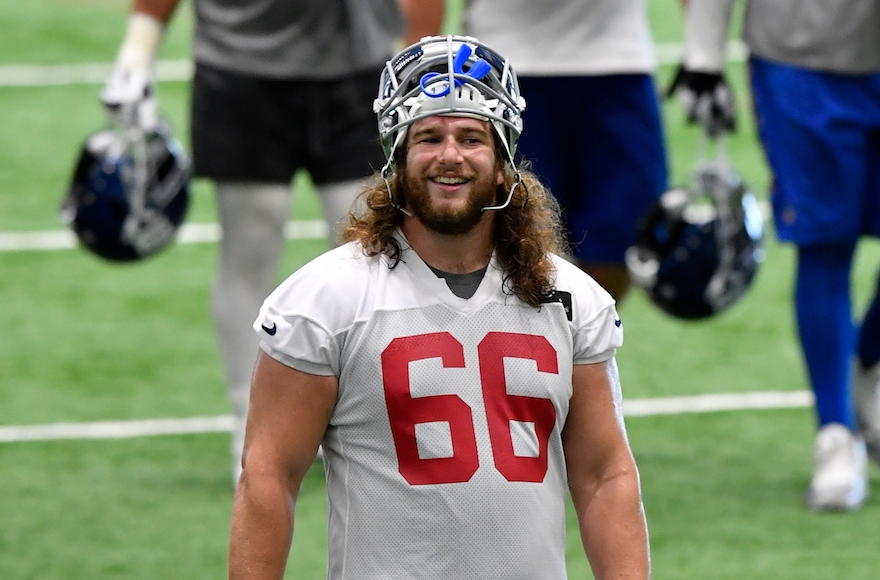 Mazel tov to Adam Bisnowaty! The NY Giants promoted him from the practice squad to the 53-man roster, allowing him to make his NFL debut in the final game of the season, an 18-10 over the visiting Washington Redskins (yes, they still have that name despite all the hubbub). Bisnowaty, the starting right tackle, appeared on all 78 offensive plays. He was called for two holding penalties, but we'll chalk that up to inexperience. Maybe he'll have more of a place on the roster next season. The Giants finished 3-13.
Nate Ebner (New England Patriots) and Ari Marpet (Tampa Bay Buccaneers) ended the season on injury reserve. The Patriots won the AFC East with a record of 13-3, tied for best in the league. Marpet's Bucs, on the other hand, were 5-11 and last in the NFC South. Only four teams, including the 0-16 Cleveland Browns, finished with a worse mark. Marpet is a free agent in 2019; will Tampa Bay keep him? Ebner has a $500,000 bonus in his contract for making the Pro Bowl, but that is a very iffy proposition, even though he did have another great season.
Mitchell Schwartz played well as his Kansas City Chiefs won the AFC West with a 10-6 record, despite faltering midyear. The 28-year-old OT was once again an iron man, playing on all of the Chiefs' offensive snaps. There was some question about that prior to the game. The Chiefs will host the Tennessee Titans in a wild card game on Saturday.
Gabe Marks (NY Jets) was signed after the NFL draft but never made it into a regular season game. He decided he would call it a (non) career early on, announcing his retirement in November.
Josh Rosen alert: There's been a lot of talk about the UCLA quarterback's future. Will he leave college to enter the Draft, especially with new coach Chip Kelley at the helm? Or, since he doesn't seem interested in joining with the Browns — who would have the first pick — stay in school another year, potentially risking even more injury? As it was he had to sit out the Cactus Bowl because he didn't clear concussion protocol, watching helplessly while his teammates lost the game to Kansas State, 35-17. And since he has been injured a fair amount, how will that affect how NFL teams approach him?