NBA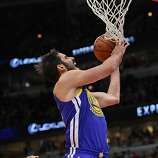 Omri Casspi returned to action last night, playing 18 minutes off the bench with four points, four rebounds, and a steal as the Golden State Warriors beat the host Chicago Bulls, 119-112. It was the 14th straight road win for Golden State (37-9). From the Sacramento Bee: "F Omri Casspi played for the first time in a week after being sidelined by lower back soreness. Casspi was available for Golden State's win at Cleveland, but Kerr held him out. 'I wasn't comfortable playing him yet, because he hadn't really played enough with that bad back,' [Coach Steve] Kerr said. 'I'm a little sensitive to bad backs. I wanted him to get a good workout (on Tuesday).'"
NHL
No MOT games last night. Tonight, Zach Hyman and the Toronto Maple Leafs visit the Philadelphia Flyers; Brandon Leipsic and the Vegas Golden Knights visit the Tampa Bay Lightning; David Warsofsky and the Colorado Avalanche host the San Jose Sharks; and Jason Demers, Jakob Chychrun, and the Arizona Coyotes visit the Nashville Predators.
MLB
Your regular Gabe Kapler report.
MLB.com puts Atlanta Braves hurler Max Fried at #10 on the list of top lefty prospects.
MLB.com also says the recent acquisition of Ian Kinsler is a major upgrade for the Los Angeles Angels. Conversely, his departure helps make the Detroit Tigers one of the worst teams in the game at the moment, at least according to Bleacher Report. Well at least you can't blame Brad Ausmus anymore.
NFL
"Despite his first season at center ending prematurely due to injury, Ali Marpet and an effective pass protection effort by the offensive line aided the Tampa Bay offense in setting multiple franchise records in 2017," according to this player recap on Buccaneers.com.
Tennis
At the Australian Open, Diego Schwartzman and countryman Guido Pella of Argentina lost their doubles match to Hans Podlipnik-Castillo (Chile) and Andrei Vasilevski (Belarus) 6-3, 3-6, 7-6. Madison Brengle (USA) and partner Monica Puig (Puerto Rico) beat Alison Bai and Zoe Hives (both of Australia), 6-4, 1-6, 6-4, in the first round of women's doubles.